We are in need of Volunteers. Friday Night Bands and Sunday Bingo are always needing help. All of our events can run smoother with more volunteers to help us. Please see any officer or bartender if you are willing to help.
If you are interested in joining our Honor Guard, please call (352) 796-0398. We would love to talk to you!!
May 21st is Comedy Night with comedian Jody Fuller. He is a combat veteran that has been on tour with the USO. Tickets are $25 a ticket and includes a steak or chicken dinner. VIP Tables are available. See one of our bartenders to get your tickets today. HURRY, THEY ARE GOING FAST!!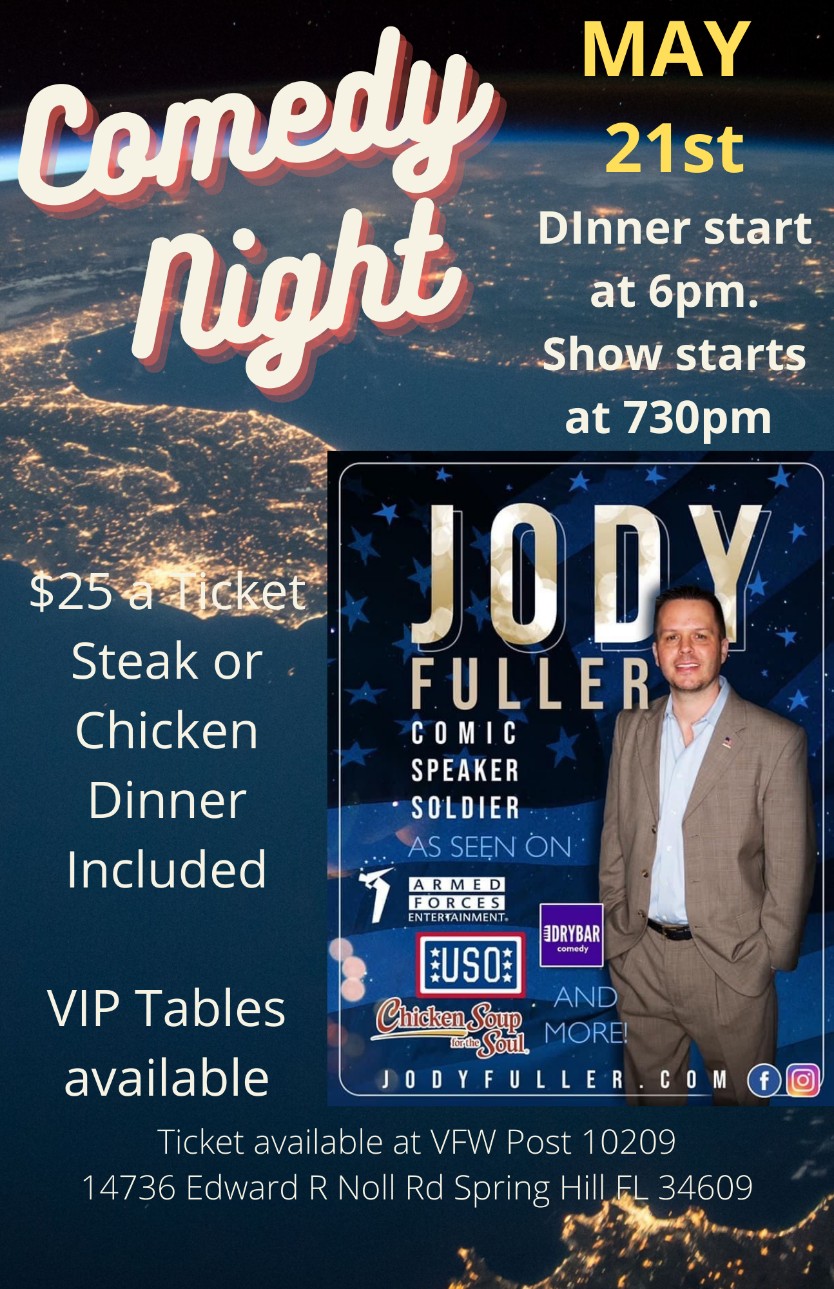 May 26th Doc's Dinner, a mainstay in the Spring Hill area, is finding a new home in Post 10209. They will be serving Breakfast at VFW Post 10209 on Thursdays thru Sunday from 6:30 am to 10:30. Come support Doc's and your VFW Post 10209 and enjoy a wonderful Breakfast. Come celebrate the Re-opening of Doc's Dinner.
May 30th is Memorial Day, and we will be having a Potluck. We will provide hotdogs and hamburgers. Bring in your favorite dish, side, or dessert. Breakfast will be served by Doc's from 6:30 – 10:30, Ceremony will be at 11 am and the Potluck will be after the Ceremony. Bring your family and friends!! Doc's will be open Thursday the 26th thru Monday the 30th during this weekend.
June:
June is PTSD awareness month. No one understands the trials and tribulations of PTSD like members of the VFW. If you need someone to talk to, come into VFW post 10209 and let's talk. If you cannot make it in and need help immediately, please call the Crisis hotline:
Veterans Crisis Line:
1-800-273-8255 (Press 1)
June 6th is D-Day
June 12th is Women Veteran's Day
June 14th is the Army's Birthday
June 19th Is Father's Day and Juneteenth
June 27th is PTSD awareness day
July:
July 4th Independence Day
July 25th National Hire a Veteran Day
July 27th Armistice Day
July 28th National Buffalo Soldier Day
July 29th Army Chaplain Corps Anniversary