The SSG Michael W. Schafer Memorial All-American VFW post 10209 is located at 14736 Edward R Noll Dr, Spring Hill, FL 34609 and our phone number is (352) 796-0398.
If you are a combat veteran in the Spring Hill area and are looking for a place to find other combat veterans who understand what you have gone through and/or looking for a place to call home, come see us and fill out a membership.
If you are an immediate family of a combat veteran and are looking to help veterans, please come join our Auxiliary.
We are in need of Volunteers. Friday Night Bands and Sunday Bingo are always needing help. All of our events can run smoother with more volunteers to help us. Please see any officer or bartender if you are willing to help.
If you are interested in joining our Honor Guard, please call (352) 796-0398. We would love to talk to you!!
Check out our Latin Dance night flyer by clicking here. Dance Lessons start at 7pm and Dancing starts after.
Are you a Marine who likes to ride? For more information click here.
A special thanks to Bowler's Mart and Cool Wick for sponsoring our floor.
Read the Hernando Sun's Article on the Memorial Day Ceremony at Post 102009. Click on the picture for the Article.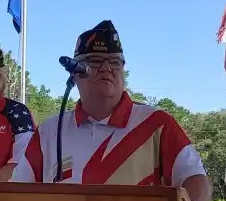 May 26th Doc's Dinner, a mainstay in the Spring Hill area, is finding a new home in Post 10209. They will be serving Breakfast at VFW Post 10209 on Thursdays thru Sunday from 6:30 am to 10:30. Come support Doc's and your VFW Post 10209 and enjoy a wonderful Breakfast. Come celebrate the Re-opening of Doc's Dinner.
June:
June is PTSD awareness month. No one understands the trials and tribulations of PTSD like members of the VFW. If you need someone to talk to, come into VFW post 10209 and let's talk. If you cannot make it in and need help immediately, please call the Crisis hotline:
Veterans Crisis Line:
1-800-273-8255 (Press 1)
June 6th is D-Day
June 12th is Women Veteran's Day
June 14th is the Army's Birthday
June 19th Is Father's Day and Juneteenth
June 27th is PTSD awareness day
July:
July 4th Independence Day
July 16th Latin Dance Night
July 25th National Hire a Veteran Day
July 27th Armistice Day
July 28th National Buffalo Soldier Day
July 29th Army Chaplain Corps Anniversary